Dr. Londel Fields is overjoyed to present our fantastic team! Knowledgeable and kind, our team of dental professionals brings light and laughter to our office. Each member is cross trained in a variety of dental care treatments in Tulsa, Oklahoma, and is happy to lend a helping hand wherever needed at South Tulsa Smiles. Learn more about our team below and call 918-740-0454 to meet with our dentist!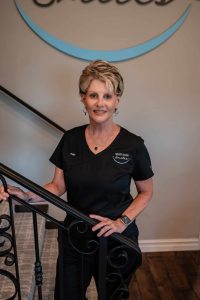 Patty
Business Administrator
Patty has been in the dental field for over 20 years and loves everything about dentistry, especially the patients.
In her free time, Patty enjoys spending time with her husband on their motorcycle doing charity events. She is also passionate about rescuing senior dogs from unwanted situations and giving them great retirement years.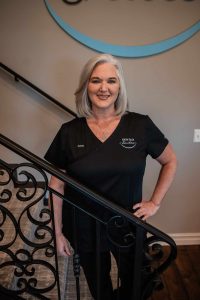 Amy
Scheduling Coordinator
Amy is beyond thankful to be a part of this amazing team! She truly enjoys connecting with our patients and getting to see them through their treatment process!
Amy has been married to her best friend, Michael, for over 25 years, and they have two grown children. She and her husband were both born and raised in Texas, where they lived until his job moved them to Tulsa in 2020. They are empty nesters who love to travel as often as possible!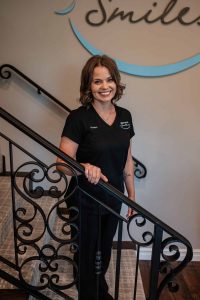 Chasten's passion is to help people and make them feel comfortable in the dental chair. She loves meeting new people and getting to know them.
In her free time, Chasten enjoys spending time with her family. As a family, they enjoy traveling to different places, being outdoors, and having fun and enjoying life!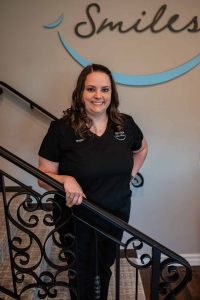 Megan truly loves being a part of such an amazing team and enjoys getting to know each patient and easing any dental fears they may have.
Megan has a fiancé named Josh, and together they have a sweet, furry, four-legged daughter named Lucy. Off-hours, they enjoy cheering on the Oklahoma Sooners, going to the movies and vacationing on the beach as often as they can.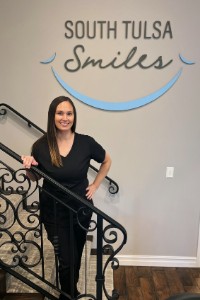 Annie is an experienced dental hygienist who earned her Bachelor of Science degree in Dental Hygiene in 2007. Originally from a suburb of Houston, Annie moved to the Tulsa area in 2012 and has been helping patients achieve healthier smiles for over a decade. Aside from her professional accomplishments, Annie is happily married to a mechanical engineer whom she met while cleaning his teeth! Together, they have an adorable daughter who is the center of their world. Annie loves music and has an exceptional ability to quote even the silliest movies and SNL skits. In her free time, she enjoys making personalized gifts, like tumblers, mugs, puzzles, and pillows. There are so many aspects of her work that Annie loves, from taking care of patients-especially those with dental anxiety-to educating them on oral health's significance to various systemic issues. Another component that brings her joy is celebrating with patients during their oral health improvement journey. Annie appreciates being a part of her patient's stunning transformations, making her career as a dental hygienist incredibly rewarding.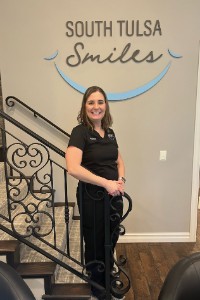 Meet Rebecca, a certified dental hygienist who graduated from Tulsa Community College's hygiene school in 2013. Beyond her passion for oral care, Rebecca enjoys traveling, reading, and spending time with her beloved nieces and nephews. She is also a proud dog mom to four furbabies – Piper, Harley, Brody, and Gus. Rebecca believes in creating a welcoming environment for her patients, where they can feel comfortable and at ease. The best part of her job is educating her patients about oral health and helping them attain their best smiles. From preventive care to treatment plans, Rebecca's dedication to her patients ensures they receive top-notch dental care.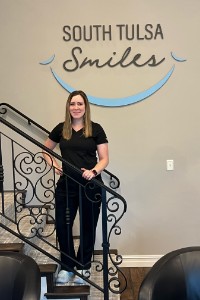 Meet Chelsea, a highly skilled and dedicated dental hygienist with over a decade of experience in the field. Chelsea discovered her passion for dentistry back in 2008 when she attended dental assisting school, and later graduated from dental hygiene school in 2016. Her enthusiasm for oral health care stems from her love of forming meaningful relationships with patients. Chelsea's favorite part about her job is helping patients achieve their best oral health while also getting to know them on a personal level. Outside of work, Chelsea enjoys spending time with her wonderful family, including her 3 kids and husband, reading books, watching movies, and catching up with her extended family members during gatherings.